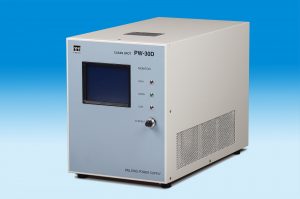 Resistance Weld Power Supply "PW-30D" is born as the crystallization of our 30 years of weld technology.
Built-in LCD touch panel for easy operation.
Downsizing (80 % content of previous model) Lightweighing ( 63 % weight of previous model)
By combining the use of our designed weld-head, precise and minute weld can be achieved.
Specification
Input Voltage

AC200V to AC240V,50/60Hz,1-phase

Input Amperage

1KVA

Input Inrush Current

40Amps typical

Max Output Voltage

9.000Volt

Max Output Current

3000Amps

Output Rise Time

100

μ

sec max.(Welding Power Supply alone)
Varies with the connection cable length.
Output Setting Range(Pre-heat &Main-heat)

Constant Voltage Control / 0~9.000Volt,3000Amps max
Constant Current Control / 0~3000Amps,9.000Volt max
Constant Power Control / 0~9000VA,3000Amps max

Time Setting Range

Pre-heat / 0~3000μsec
Interval / 0~5000μsec
Up-slope / 0~5000μsec
Main Heat / 0~9999μsec


Down-slope / 0~5000μsec

Weld Condition Memory

15 settings

Control response Speed

5msec

Cooling Method

Forced air cooling

Dimension

270(W) 

× 

490(D) 

× 

345(H)mm

Weight

25kg