We will solve problems of design and manufacture of automatic machines and labor-saving equipment, production lines. We support total from design to installation launch. Moreover, it corresponds to development and manufacture of all FA machines such as energy field and medical field as well as equipment of electronic parts.
We receive pleasure from customers as equipment that takes into consideration the stable operation of the equipment and usability of workers. We will continue my efforts in the future.
Assembly Work and OEM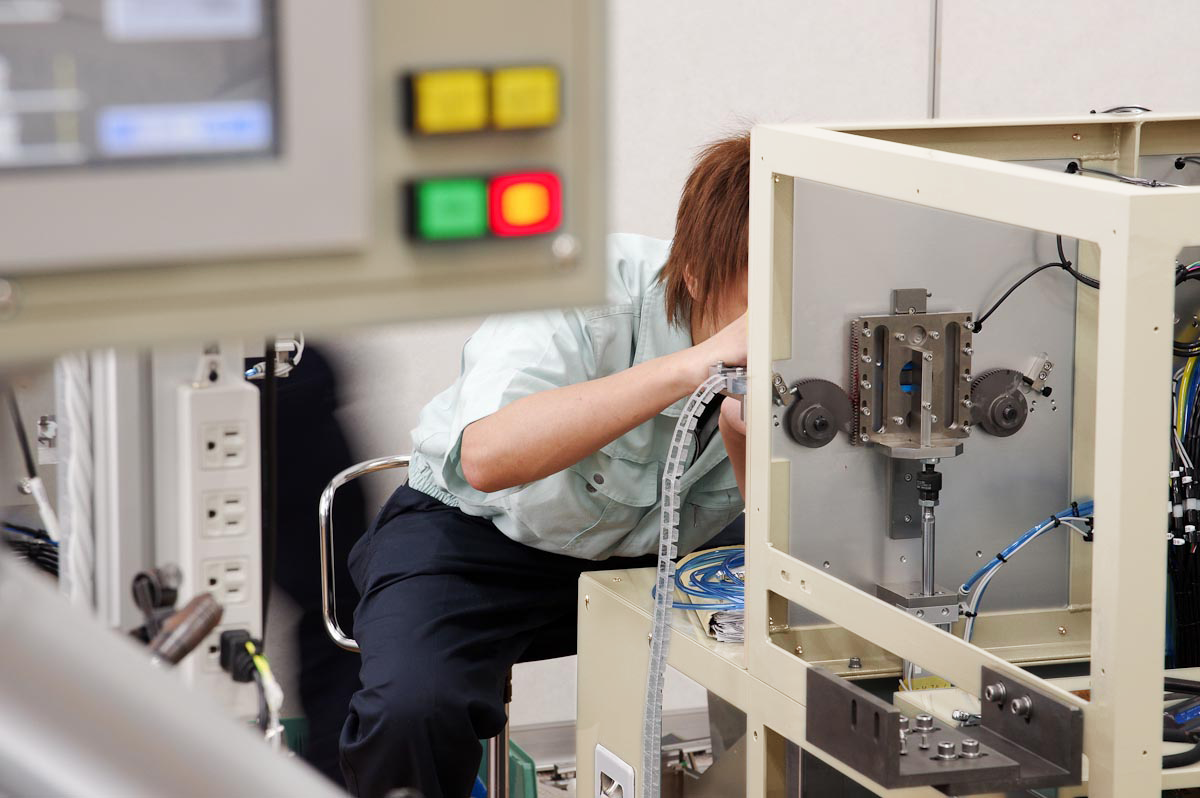 Not only custom made but also OEM (Original Equipment Manufacturing) correspondence is also possible.
We can accommodate assembly adjustment and delivery. We also do maintenance and overhaul of already delivered equipment. Since it is often used for 20 or 30 years long, we will support you to ensure stable operation.
Flow from Order to Delivery
1.Ordering

Decisioning about Specification
We will grasp to accurately the specifications the customer needs. Presenting a conception based on the meeting, once again after the meeting, determine the specification. The contents of the meeting with the customer will also be shared within the company and we will check whether there are any leaks.
2.Machine and Circuit Design

After determining the specifications, From the initial stage, mechanical design staff and electrical design staff design while sharing information with each other. Considering the operability of the operator, we design it so that the required functions of the machine are fully demonstrated.
3.Part Processing and Arrangement

After completion of design, we arrange parts and purchased items. We ask for cooperation not only inside the company but also cooperating companies, and we will proceed with the production of accurate parts.
4.Assembly Adjustment

Once the parts are purchased, assembly of the equipment will start. While checking whether there is no problem or mistake in each part, assemble all the units while precision such as parallelism and right angle is checked while checking whether there is no place to improve, and advance the apparatus to the ideal form I will. Once all the parts are assembled, we will make the whole adjustment.
The machine design staff, the circuit design staff, and the assembling staff become one team and make final adjustments. Improve and improve functionality and maintenance, etc, and finish it in a machine that you can use in a better form. Machines will be completed by tackling without compromising even small details.
5.Customer Confirmation of Machine

We will ask customers to confirm before delivery. It will be shipped after Us machine is passed the inspection and confirmation in each process and passed.
6.Delivery and Start-up

After shipment of equipment, we will begin construction. Even in the case of overseas customers, we will visit and respond. After starting up, we will conduct operation training to customers and inform you of operation method and maintenance method.
7.Consumable Goods

There are parts and purchased goods called consumables in Machines. As a follow-up to that, we also support expendable parts.